KAON Remote Management Solution (KRMS)
KAON Remote Management Solution(KRMS) is an end-to-end monitoring and management solution for
Set-top boxes and Broadband CPEs with its embedded CPE WAN Management Protocol(CWMP) agent, TR-069.
This embedded TR-069 agent will enable Set-top boxes and Broadband CPEs configurable, monitorable, and manageable, and will help operators provide the quality of service.
Full package for a service
Providing an end-to-end solution from CPEs,
Server, SW, and device management solution
Standard-based protocols
Using industrial standard TR-069 (CWMP) makes
vendor and device agnostic platform
Vendor Specific Features
Supporting vendor-specified features with our own
CPEs according to the SP's service environment.
KRMS Features
Device Agnostic Management All Set-top boxes and Broadband CPEs
can be manageable via KRMS
Zero-touch Provisioning Devices based on industrial-standard
data model are auto configurable
Dynamic Control The vendor-specified features will give
administrators the customized functions
Quality of Service Quick diagnostics tools including Ping,
Trace Route, Speed test, and soft remote are available
Wi-Fi Management Managed Wi-Fi enhances the quality
of experience for subscribers
Operational Management Inventory, Firmware Update/Schedule,
Application management available
KRMS Video Clip
KRMS Architecture & Specification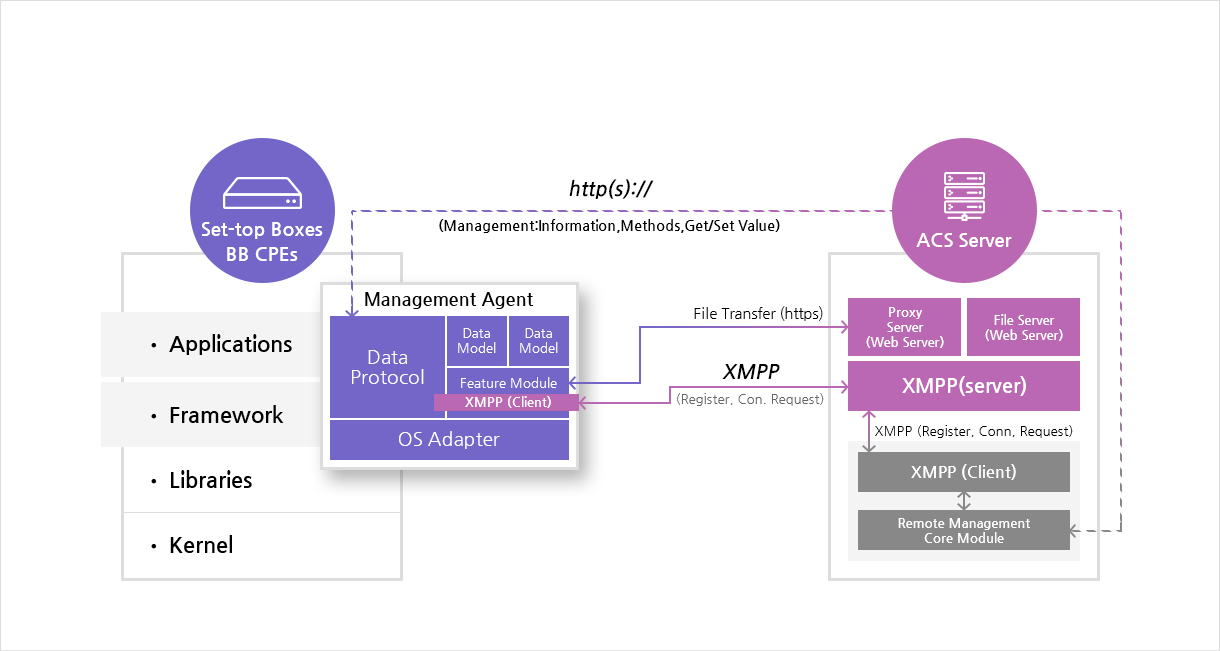 KRMS Specification
Management Protocols
CWMP (TR-069), SSH, Telnet, HTTP(S), FTP
Device Management
Broadband CPEs (xDSL, Cable, AP Routers), STBs, VoIP terminals, Internet of things
(IP cameras, power management devices and more), etc.
Device discovery
Automatic device discovery
Server
Clustering and load balancing supported
User Interface
Web based UI
System Requirements
JAVA on Linux