HR Policy
Ideal Kaon Media candidate
The ideal candidate Kaon Media is looking for is a 'professional, passionate, innovative and communicating person.'

Kaonmedia's Evaluation System
Considering the work features of each position, there are two evaluation systems: one for 'R&D positions' and one for 'Other positions'.
Kaonmedia operates an evaluation system that supports fair compensation for employees through systematic performance management.
Other Positions
Top down (Achieve management policies)
Bottom up (Improve individual capacities)


- Set merged individual objectives MBO
R&D Positions
Quantitative evaluation considering project features and difficulty
360 degree evaluation of capacities as a Project Leader
Kaonmedia's Compensation System
We operate a salary system that is based on performance evaluations.
In addition to monetary compensation, we are striving to strengthen other welfare benefits to maintain a balance between work and life for employees.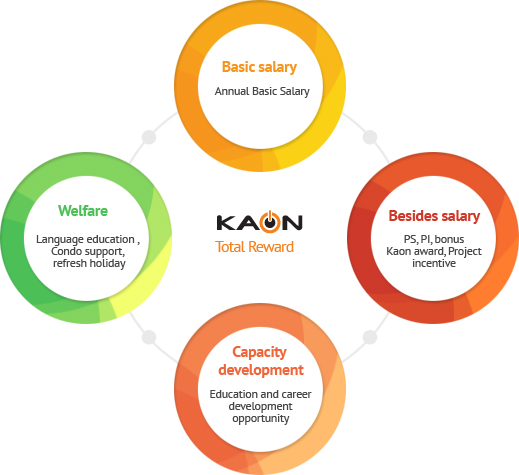 Kaonmedia's Welfare Program
Various welfare programs are offered so that employees can work happily and with pleasure.
Mentoring system
Support for a long-term business trip
Meal support
Year-end event
Sports event
Cafeteria
Proud KAON Person Award
Foreign language education support
Workshop/ Entertainment expense support
Leisure place condominium operation
Physical examination for employees and their family
Voluntary activity
Family event support
Club support
Company housing support
Kaonmedia's HR Development Program
We provide various educational programs so that all employees can grow as global experts and become talented human resources with strong leadership